2018 Schedule
A look at our upcoming 2018 Championship schedule
PGA of Canada
What is the PGA of Canada?
News
Check up on all the latest news
Contact Us
Want to get a hold of us? Have a question?
https://recordings.join.me/p9YR5gqS2k6SobJNFtrqVQ
Thank you to all Professionals for participating in the first NOPGA webinar.  A special thanks to Mr. Derek Murray for taking the time to chat with us and to Mr. Glenn Cundari for organizing the event. Please click on the link above to listen to a recording of today's webinar.

PGA of Northern Ontario members are invited to take part in the upcoming webinar "Trends and the Business of Custom Fitting" by GCA World Clubfitter of the Year in 2010,  Derek Murray of ForeGolf Ireland.
The Webinar will take place on Tuesday May 29th at 10:00am EST.
Invitations have been sent to Members, if you did not receive an invite or need an invite please contact Jeff Mancini at nbgccgolfpro@hotmail.com.
Here is the Bio for Derek and his qualifications.
Derek Murray is one of the World's leading independent experts on golf club technology and the true art of custom fitting and club making.
He is Owner of his family run business, ForeGolf, which is based at The Long Game Academy, Killeen Castle, Dunsany, County Meath in Ireland.
Qualified Class A Master Club-Fitter and Clubmaker.

Ping Gold Putter Awarded for Outstanding Contribution to Golf.

GCA Irish Clubmaker of the Year 2005.

GCA European Clubmaker of the Year 2007.

GCA Award of Excellence 2008.

GCA World Clubmaker of the Year 2010.

European Tour Qualified & Experienced Club-Fitter/Equipment Advisor.

KBS Golf Shafts – Advisory Board Member – (2010 – 2017).

The PGA of Canada's Technical Advisory Panel – (2015 – Present).

Equipment Editor – Golf Digest Ireland (2006 – 2015).

Equipment Technical Advisor – Irish Golfer Magazine. (2015 – 2018).

Equipment & Technology Consultant – Golf World Magazine/Bauer Media UK. (2015 – Present).

SFA – Highly Commended Outstanding Small Business of the year 2013.

Member of The Irish National Guild of Master Craftsmen.

Volunteer Coach & Committee member of Naas AFC Underage Football Club and holds a UEFA D Coaching Licence.

International Host & East/West Range Co-Ordinator for the Drive Chip & Putt junior golf initiative held at The Augusta National Golf Club held ahead of The Masters Tournament.

Honorary Life Member – Old Head of Kinsale Golf Links & Killeen Castle.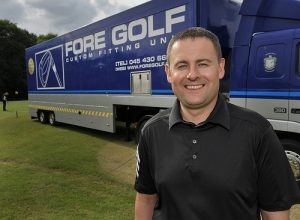 Throughout his career Derek has worked on ball flight and club solutions with Masters winner Ian Woosnam, Multiple Major winner Padraig Harrington, Open Champion 2011 and Ryder Cup Captain, Darren Clarke, US Open winner Michael Campbell, the late, great Seve Ballesteros and numerous PGA Tour, European Tour, Web.Com Tour & Challenge Tour professionals including, Sergio Garcia, Gary Murphy, Shane Lowry, Irish Olympian – Seamus Power, Thomas Aitken and Raphael Jacquelin.
He has also been assigned by a number of player management companies to help advise their Tour Players on contractual arrangements regarding equipment suitability ahead of potential moves by the professional tour player from one brand to another.
He is working full time with PGA Tour player and former Irish Olympian, Seamus Power as an advisor on his equipment setup and club specifications.
Derek's unique and very specialized skill-set has also been retained by the PGA of Canada as an equipment fitting project consultant where he is being assigned to help design, develop and deliver a new equipment fitting programme for their PGA members. He has completed the revamp of the Year 1 exam, facilitation and grading system and is now currently developing Year 2 & 3.
He has also recently joined the PGA of Canada's Technical Advisory Panel.
Designed and developed an exclusive, brand agnostic club fitting system and in-house club-fitting programme for The Augusta National GC, Georgia, USA & provides ongoing current information on equipment technology and industry insights.
He also holds the position of East & West Range Coordinator position and hosts at the annual Junior Golf initiative; Drive, Chip & Putt Junior golf challenge during The Masters.
He has been retained by Fortune 50 Company, UPS as a Sports Ambassador. He will attend specific UPS customer events around the world along with fellow UPS Ambassadors and Tour Professionals, Lee Westwood & Louis Oosthuizen where he will deliver a bespoke customer club fitting experience.
Derek and ForeGolf recently featured on a UPS – Ultimate Access TV piece where Golfing World TV went "back-stage" at ForeGolf HQ and took a peek behind the now famous golf clubmaking curtain: https://www.youtube.com/watch?v=r1Qoh351pNU
Derek designed and delivered a very successful and specially tailored BMW 7- Series Customer Experiential and Customer Engagement programme for BMW in Ireland.
Derek has a multi-branded travelling fitting kit which allows him to attend events, golf days and private golf clubs around the world and provide advice and his expertise on the best equipment to suit every style of golfer. A cloud based system connects the fitting session to the workshop in Ireland where the client can then order from the recommended clubs at the end of the session. The custom clubs are then hand built in the tour spec workshop in Ireland and shipped directly by UPS to the individual client a few days after the event.
Derek has recently partnered with YouTube as a Partner Publisher to create a very specific and specialized "experts view" of new golf equipment and will upload product reviews twice monthly on the YouTube platform.
YouTube: https://www.youtube.com/foregolfie
FaceBook: www.facebook.com/foregolfcustom/
Twitter: @Foregolfcustom
Instagram: foregolfcustom
Here are the dates for Zone play for the 2018 Season.
Spring Championship
May 27-28th
Timberwolf G.C
Pro-Pro Championship
June 25th
Ridge at Manitou
Pro-Junior
July 16th
Pinewood Park G.C.
PGA of Northern Ontario Championship
August 5-6th
Parry Sound G.C.C.
Pro/Super/Director
August 27th
Eagle Lake G.C.